Pine Nut Oil - Siberian Pine, Pinus sibirica or ancient native name Siberian Pine
Feedback on the Siberian Pine Products
Please share your experience with others and help to restore the knowledge about healing power of Siberian pine products: send us your feed back and we will place it on this page. Thank you!
Write your feedback and receive 5% off your next purchase! The best one will be published. | Articles
Table of Contents:
1. Customer Reviews on Siberian Pine Nut Oil and Ulcer and Gastritis
2. Customer Reviews on Siberian Pine Nut Oil and Liver Problems
3. Customer Reviews on Siberian Pine Nut Oil and Energy Level
4. Customer Reviews on Siberian Pine Nut Oil and Skin Problems
5. Customer Reviews on Siberian Pine Nut Oil for Other Health Problems

6. Customer Reviews on Siberian Pine Nut Oil enriched with Resin and Ulcer and Gastritis
7. Customer Reviews on Siberian Pine Nut Oil enriched with Resin and Liver Problems
8. Customer Reviews on Siberian Pine Nut Oil enriched with Resin and Energy Level
9. Customer Reviews on Siberian Pine Nut Oil enriched with Resin and Skin Problems
10. Customer Reviews on Siberian Pine Nut Oil enriched with Resin and Parasites
11. Customer Reviews on Siberian Pine Nut Oil enriched with Resin for Other Health Problems

12. Customer Reviews on Siberian Pine Nut Oil enriched with Sea Buckthorn Berry (Sea Buckthorn Oil)

13. Customer Reviews on "Pine Power" - Pine Nut Flakes Cereal

14. Customer Reviews on Cedar Pillow




1. Customer Reviews on Siberian Pine Nut Oil and Ulcer and Gastritis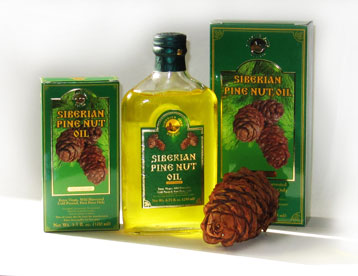 Extra Virgin Siberian Pine Nut Oil
Cold Pressed on Wooden Presses
from First Grade white pine nuts
I have been suffering with chronic stomach distress and digestive issues for several years. Over the counter remedies were not addressing the issues, the pain was so severe I went to the doctor and was diagnosed with having gastritis. I was given a course of antibiotics for 10 days, but the pain, nausea and severe bloating had not subsided.
I decided to take an active role in finding alternative methods and came across Siberian Pine Nut Oil and ordered the Pine Nut Oil and the Pine Nut Oil with Resin. I followed directions in dosage and within 3 days I had no more pain, nausea and bloating. My symptoms had totally disappeared. Pine Nut Oil and Pine Nut Oil with Resin is extremely powerful and they really work to restore balance in the digestive system.
I am absolutely pleased with the product and the results/benefits of taking Siberian Pine Nut Oil and Pine Nut Oil with Resin. Whenever I have a flare-up I take Pine Nut Oil.
Thank you for such a wonderful product.
Patricia, Elkton, MD, USA
---
The oil is just amazing a miracle the digestive problems I have experienced now for over 20 years has improved 100 percent in just two months of taking pine nut oil daily, alternating between one teaspoon or one tablespoon. It is just brilliant for skin too.
Jean Grosvenor, London, U.K.
---
I have been suffering with ulcers for thirty six years. I have been on many meds over the years to no avail. I have been using your product for less than a week and feel better than I ever have. I thank you for a product that does what it advertises.
Phillip Calabrese, maple hts, OHIO, USA
---
My aunt in Fl. loves your product she used to have stomach trouble and now she doesn't. I order it for her when she needs more. Thank you for having a good product.
Betty Mast, Bentonville, AR, USA
---
I just bought a bottle of this off the web site advertised n for the first time in 20 yrs my stomach pain has gone away, appears to be great stuff!!
Judy Underwood Findling, LA, USA
---
I received my first order of Siberian pine nut oil and the first week my stomach was considerably better.
I will be ordering again, soon.
Thank you so much.
Alice Schneider, Cambridge, ON, Canada
---
Thank you very much for your amazing pine nut oil. It has been a blessing in my husband's gastritis issues. After almost three years of dealing with stomach pains and different types of anti acids tablets, the Siberian pine nut oil has been heaven sent. He has ordered more and will continue to use your amazing oil as the benefits have been huge.
Thanks again.
Priscilla De Maria, Melbourne, Australia
---
I am a 35yr old female have had gastritis going on about 7yrs. and some ulcers and have been on Nexium everyday for over 4yrs and I have recently tried the pine nut oil and have been taking it only for 5 days and not had to take any Nexium in that time and I have tried to get off of it before and not even lasted 2 days without starting to hurt again, so good so far. I'm sure there is some changes in my diet I need to adjust as well but I'm pretty happy with it so far.
Thanks, Melissa, USA
---
This stuff is a miracle!! I have been on prescription medication for gastritis for 8 year. I have recently decided to stop the medication and give this a try. In less than a month I could go without the medication and have zero pain or symptoms. What this oil has done for me within a month the medication could not do for over 8 years. I would recommend the oil to anyone!
Susan Gristick
---
Start using it! Great results no more stomach issues......
Elaine D. Sweeney
---
I am in love with Siberian Cedar Pine Nut Oil. I take it internally a few times a day and my stomach is so calm and happy. Thank You Siberian Pines!
Candice Coriale
---
I have suffered for almost 3 years with a peptic ulcer so I phone someone at a health pharmacy on a Sunday night because the pain was killing me. Monday morning I went to buy Pine nut oil and now it's the 3rd month that I use this every day on a empty stomach it definitely save my life. Nothing else was working and I have tried many medications. I'm so relieved any feel like a new person.
Susan Botha
---
I have taken the Siberian Pine Nut Oil for one week. I stopped my Nexium the very first day I started the Pine Nut Oil. This product is awesome. I have hardly any heartburn, nausea, GERD. I can hardly wait to see what I will feel like after a month. Thank God that a natural product works so well.
Kay Metzger, USA
---
I have been using this for years now. It is very good for stomach ulcer etc.
Noblin Porter-Hamilton, Queens, New York
---
My husband has been suffering with gastritis and ulcer in his stomach. Taking 1 table spoon every morning and he is feeling much better. I highly recommend Siberian Pine Nut Oil.
Mary Defilippo, USA
---
Pine Nut Oil has healed my ulcer! My condition was so severe and painful, and it affected not only my health but my mood. I was recommended this product by my family doctor, who has used it for his ulcer and swore by it. I will spread the word about this product to others as so many are suffering with this uncomfortable condition.
Leona Flemming, CO, USA
---
I have used your Pine Nut oil for my acidity and ulcer. I was taking 2 tbls, 30 min before my breakfast and lunch for my ulcer treatment, as your representative recommended. and I felt tremendous relief after taking it for about 1 week. I love its pleasant color and taste.
Alina Wallace, USA
---
I have ordered the Siberian Pine Nut Oil for both a friend and also twice for two of my grandchildren with wonderful results considering stomach pain. I am in the process of ordering a bottle for my grandson who is suffering from a stomach-pain disorder.
Barbara Thompson, LA, USA
---
My name is Kumar, and I'm writing to you from India. I was diagnosed with severe stomach ulcer last year. The Dr. has prescribed many antibiotics for me as an ulcer treatment. It helps me a lil but when I stop the severe pain comes back. Sometimes it is so bad that I feel like I'm dying. I don't trust doctors here. I found your company on the internet accidently. I decided to give your oil a try. It took me about 1 months to treat this condition I have, although I started to feel better after 3 days. After 1 month I also tested with my local Dr. here, and he was amazed that my ulcer was not there anymore. This product is a miracle. I now want to become your distributor in India, because I know many people here suffer with this condition.
Kumar Mukherji, Gujarat, India
---
I have taken the pine nut oil. I had 3 superficial stomach ulcers and gastritis. I took the PNO 2 tsp. 3x a day w/out taking Nexum prescribed by dr. I went to get my Endoscopic procedure on Dec. 19 and I was told no more ulcers and no gastritis. I told the dr. what I was taking and he was amazed by the results. Walked away shaking his head and saying to "There wasn't an even a trace of ulcer".
Regina Iannuzzi Sprague
---
I had been on drugs (Amoxicillin and Prilosec) for my ulcer and gastritis for three weeks with little improvement. No doubt my stressful life didn't help. I'm a self-employed CPA, CISA, CITP and JD, likely long overdue for an ulcer. With all the alphabets go a lot of responsibility and a grueling work schedule.
The pain and side effects from the drugs did not improve until I took my first sip of your oil. I honestly felt better IMMEDIATELY; it was noticeable by the end of the first day. I thought maybe you guys made up the testimonials on your website, but I was desperate enough to try anything. I sure am glad that I did.
Thanks for providing all the information about ulcer and gastritis on your website, it was invaluable. I plan to take the pine nut oil every day, even after I am well, although not as many times per day. I'm very impressed with the quality of your product and the professionalism your organization has displayed in every one of your communications. If you ever decide to advertise, I would do a commercial for you for nothing.
Thank you,
Vivian M., Sugar Land, TX
---
I have just placed my second order for Siberian pine nut oil because it is a miracle product. I ordered the product a month ago after doing research on the net for my father who lost 21 pounds from massive gastrointestinal problems. I pre-diagnosed him before his endoscopy, and he started taking the oil a week before his endoscopy.
He was diagnosed with a hiatal hernia and gastritis. Remarkably, after only taking pine nut oil for one week, they also found a healing ulcer. The doctor couldn't believe it. I am so happy to have found this product because my father was unable to eat due to extreme nausea, chronic belching, stomach pain and lightheadedness. He is now on the road to almost a full recovery and is eating again.
I want to thank Siberian for this miracle product and for answering our prayers. You saved his life! I am now spreading the word and want to share my story with everyone who is in need of a product that will answer their prayers as well.
Thank you,
Alicia H., Orange County, CA
---
I have just had a bleeding ulcer and for about the last 20 years a hiatus hernia. After 30 days of taking one 20 MG of Omeprazole two times a day and your pine nut oil 3 times a day, yesterday after my latest endoscopy, my doctor tells me my ulcer has stopped bleeding and my hiatus hernia has completely healed.
I intend to continue taking your pine nut oil, 3 times a day...
Dave Cass, USA


2. Customer Reviews on Siberian Pine Nut Oil and Liver Problems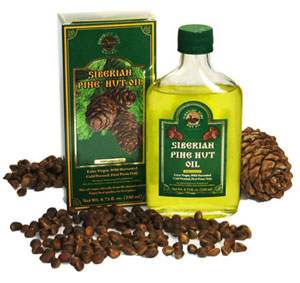 Extra Virgin Siberian Pine Nut Oil
Cold Pressed on Wooden Presses
from First Grade white pine nuts

I have used this product and I am very impressed with the results. Thank you for your products.
I would like to market pine nut oil to the people who need them and make it available to all who seek its natural healing powers. Will you allow me to sell these products on a national level here in the US ? ... I did see a doctor before using the cedar nut oil and after 30 days of using the oil I had improved so much in my liver function testing that the doctor released me from care and told me to keep doing whatever it is that I am doing because it is working.
Thank you,
Richard Jacobson, USA
---
I would like to tell you about pine nut oil. My husband and I have been taking one tablespoon in the morning on an empty stomach over six months, alternating between ten days with oil followed by five days without. We've had phenomenal results.
Six years ago my husband underwent an operation on his liver. He was obliged to follow a strict diet. Any departure from it and he would have an attack. He always kept pills handy, but they only relieved the pain. But as soon as he began taking pine nut oil, he immediately felt a noticeable relief of the symptoms. Even though he's given up his dieting, he has absolutely no liver problems. We don't even have any liver medicine in the house. It has been replaced by pine nut oil.
Another interesting thing: after taking a spoonful of oil in the morning you get a charge of energy that lasts the whole day. Even if you run around all day like a squirrel in a wheel-cage, there's no fatigue come evening. My husband is 63 years old, but in his ability to work he can knock the socks off any younger man.
I've been helped by pine nut oil too. After giving birth I got hemorrhoids and suffered with them for twenty years. No matter what remedies I tried it was no use. When I started taking pine not oil, the thought came to me, why not make pine enemas? I began introducing 2 ml of pine nut oil into my anus with a single-use syringe. Since that time I feel as though I have reborn. There's not a trace of the hemorrhoids left.
Another thing: I too had liver problems, just like my husband. Since I commenced taking pine nut oil, my liver has not caused me any distress. And my skin has become really smooth and silky. Pine nut oil does more for my skin than the most expensive creams.
I'm personally convinced that pine nut oil does work wonders. I recommend you give it a try.
Irina Nikolaevna Uziumova, Russia


3. Customer Reviews on Siberian Pine Nut Oil and Energy Level
I used the Siberian pine nut oil for a few months and I have to tell you it's very energetic. I resolved a lot of healthy disease and also I've found my real equilibre. Thank you! Its really powerful!
Cristian Calugaru, Italy
---
I have recently started using Siberian pine products such as Pine nut oils and Sea buckthorn oils and it is undeniable what a difference it has made in the way I feel and look every day. Incredible energy that radiates from within! Without a shadow of a doubt Absolutely Amazing Transformation! I will definitely recommend it to all of my friends, colleagues and family.
Pine nut flakes also add a Delicious, Highly Nutritious touch to any meal nourishing our bellies and souls.
Pure Magic! Thank you for sharing these Siberian Treasures with the world and our Community.
Kateryna, San Diego, CA, USA
---
I have been using your pine nut oil for several months, both internally and topically. My skin is smooth, my body feels strong, and I have additional energy. Thanks!
Rebecca Kovan, Ph.D., San Mateo, CA, USA
---
I can't recommend the pine nut oil enough! I work strenuous hours and need to wake up in early hours of the morning with only a few hours of sleep for few days in a row, and sometimes without a day off for up to three weeks. I feel the stress both emotionally and mentally as I sit in the office staring at the computer screen, but the cedar nut oil has given me the boost during work in healthiest manner conceivable (not caffeine, sugar, pick-me up drinks etc) and removed sense of depression that was hanging over me. It's also doing wonder on my girlfriend's skin -she has been suffering from rashes and pimples.
Dia, London, UK
---
When I did my first order I was simply delighted to receive and try out these products and they did not disappoint! I could feel the effects of the Pine Nut Oil immediately. The experience was of an accelerated thought process, mind you I am very sensitive and this may have played a role in my experience.
I also got the Pine Nut Power, simply delicious. My only regret is I went through them to quickly, so this time I'm ordering a larger amount. Enjoy and Be Well.
LeeJames Coles, Bondi, Australia
---
For the first three weeks of taking 1 tablespoon/day pine nut oil, everything tasted different. After the first three wks of use, I feel better, no longer have heartburn, many aches/pains have vanished and I have more energy. The flavor is mild too.
Connie Voss
---
We are very satisfied with your Pine Nut Oil products and feel a tremendous difference in our health. For the week we mixed your regular oil with the oil of the Resin, as your representative advised, and I must say boy me and my wife feel very energetic after every soon.
Simon Gerkin, NY, USA
---
Siberian pine nut oil keeps me energized through the day. Going through chemotherapy I was not able to get out of bed, my life was miserable until I discovered your product about 4 month ago. I feel like I was reborn.
Anna Fish, Canada
---
After a serious operation for female problems, my aunt had a very low level of hemoglobin, complete loss of strength. She was given four bottles of pine oil as a gift. Her level of hemoglobin normalized, her postoperative period passed without any complications, she rapidly recovered.
Jack Millari, Buffalo, NY
---
I have ovarian cancer and currently am undergoing an intensive chemotherapy. I want to get the words out there for all the women with my condition. Let me tell you: I could barely move from the chemo, I felt exhausted, tired all the time. My daughter was helping me a lot, I'm blessed to have her, although I wanted an independent life - a normal life, where I was able to do things for myself. I discovered your company through a friend with same condition, and she swore that the pine oil changed her life. I am now drinking it for about 2 months, and I now understand what she meant by these words. I can move, I feel energy in my body, I have tears in my eyes when I talk about this. Thank you all for saving my life!
Terra Stuart, TX, USA
---
I am usually dragging around but the Siberian Pine Nut Oil has given me more energy and a general uplifting feeling. After one bottle I was hooked and am now on my 2nd. I also ordered the oil with 5% resin and the softening effect on my dry wrinkled hands has been amazing and in such a short time! Recently, I burned my hand on a kettle and the oil has diminished any signs of it where normally it would have left a scar. I adore these products!
Teresa, TX, USA
---
Dear Friends, since you have sent the ordered products to me, I want to let you know how happy I am with the Pine Oil, the Pine Nuts and now the pillow. When I unpacked it, I was so touched ( I had tears in my eyes) because it's so beautifully made...I thank you and let you know how grateful I am. Best wishes and Godspeed.
Petra, Yelm, Washington, USA
---
Hi Folks, At the age of 57 I am bound to have had some health problems, however taking 1 wooden desert spoon of oil and the same amount of pine nuts I feel fitter, with more energy now than when I was 30 years of age. The oil and nuts are amazing.
J.G., USA
---
Dear Friends,
I have received my package of Pine Nut Oils, Spoons and Pine Pendants, which I will share with my friend. Thank you.
I have already started using the oil externally and internally and have found several benefits. I will send you another email to explain this. I am very happy. I will say, however, that within 15 minutes of applying the oil to my face, chest and throat, my emotional feelings completely changed. I became happier and joyful as though a negative oppression was lifted from off me.
Maria Rainback, Melbourne, Australia


4. Customer Reviews on Siberian Pine Nut Oil and Skin Problems
Dear Folks at Siberian Pines,
I am writing to tell you that I have been taking your pine oil for several years now because it is the only thing that keeps the eczema away. By the time I found your oil I had eczema from my scalp to my toes. It was like a biblical plague of itching oozing sores covering my whole body. Within 2 days I began to get total relief from the itching and my skin cleared up completely in a week. People who are suffering with this skin disorder need to know about your amazing oil. It is delicious and so easy to take. I started out taking one teaspoon ( do not use metal spoons!!) a half hour before each meal but now I only take two teaspoons one half hour before breakfast and I am completely clear of eczema. I was curious to see what would happen if I stopped taking it and after about 3 weeks I got a raging case of the eczema again. Clearly the pine nut oil is what is keep the eczema away. I tried so many things for the eczema and they were often as bad as the eczema itself. At one point I felt like I had burns all over my body from the topical products. Other topicals didn't work at all. And who wants to take oral medication with side affects their whole life?
I tell everyone that I run into with eczema about your product. I've told my primary care doctor and my dermatologist and for some reason they seem unable to take in that there is such a simple, pure and easy solution to such a horrible problem.
If you are suffering from eczema please try this. Buy one bottle and make sure that you don't use metal spoons and take it one half hour before your eat. You will be so happy to find what this oil can do for you.
Also, every time I order the oil the folks who work at this company are extremely pleasant and so helpful. They are also very efficient about sending the order out.
There is not down side to using this oil. It's healing properties are so powerful and there are no bad side effects. Please try it! You will be so glad that you did.
P.S. There are other companies that offer pine nut oil but their product does not come close to Siberian Pines. It might be slightly less expensive but it's a waste of your money if it doesn't do what Siberian Pines pine nut oil does. My mother tried the one of the other companies and it gave her a rash and she didn't have a skin problem like I did.
Thank you,
Delilah Praete, Kerhonkson, NY, USA
---
I just love my Siberian Pine Nut Oil! I use it as a facial moisturized, all day long I can feel the love of the Siberian Pines on my face. I feel so blessed to have discovered this amazing product.
Patrick from California
---
It's awesome stuff! Pine nut Oil is great value for money and I definitely recommend it to everyone. You can use it on all sorts of different ailments from skin problems to gum issues.
David, New Zealand
---
I am writing to tell you that I have only just started to use your product.
About eight months ago I got a rash on my legs. I have been to several doctors; had shots of cortisone and a biopsy that turned up no diagnosis.
My sister sent me a bottle of your pine nut oil. She told me to rub it on the rash and take it internally, I was reluctant to take drink the oil so I only used it topically. It really did not do much. My sister kept insisting that I drink the oil also. I drank some as she said to take it. For the first time in eight months my itching is gone.
The itch was so intense I felt like I had been in poison ivy. My daughters noticed a difference in the color of the rash and I can say it looks better in just a few days of using it both internally and externally than it has looked in eight months.
Thank you.
Monica Hosshall
---
I have been using Siberian pine nut oil on my face each night and day for at least two years. Last December, a scar that was on my forehead from childhood completely fell off. It's like my skin rejected it from the inside out and pushed if off leaving smooth skin in its place.
Just last week, much to my surprise, a mole on my neck came off too. It was the same process from the inside out. The mole has been with me for 46 years and now it's gone completely. I have no explanation other then the healing properties of the pine nut oil...
Thank you those who made it a reality!
Nannera, USA


5. Customer Reviews on Siberian Pine Nut Oil for Other Health Problems
I bought 500 ml bottle of Siberian Pine Nut Oil and had it in my refrigerator. One day my lower back was in such excruciating pain (probably from preparing my garden plot) that I was in tears; I have a fairly high pain threshold, so this was very painful. My son remembered the Pine Nut Oil and rubbed some on my back.
Instantly (not a few minutes or hours later, but instantly) the pain vanished.
Truly amazing! Thank you.
Maureen, U.S.A.
---
I was recently diagnosed with H. Pylori and been having severe burning abdominal pains. After taking pine nut oil for 1 week, I noticed increased energy with no further pains.
Dayenne CA U.S.A.
---
I want to share my experience of using pine nut oil. My eldest daughter, Tatiana, gave a teaspoon of pine nut oil each to her two- and three-year old children in the autumn over the course of two months. During the flu season, all children in their group came down with the flu. My grandsons did not get the flu.
This year, my daughter also stocked up on pine nut oil from the Siberian Pines company, but this time for the entire family.
Starting in the summer, I began to be bothered by changes in my body - menopausal syndrome: severe hot flashes and chills, a sharp increase in blood pressure, weakness. I drank pine nut oil for three months, and now I have been feeling wonderful for four months. The symptoms I mentioned do not bother me. My entire body's capacity for work has increased.
Anna W.,Chicago, IL
---
I have appreciated this website. My husband told me for a year to try your Pine Nut Oil for constipation. Finally my daughter ordered and I have never been happier.
Thank you for offering this oil to us in the States!
Barbara W., Saratoga, CA USA
---
Pine nut oil is good. My doctor and I both use it with good success.
Dennis Hildebrandt, Winnipeg, MB, Canada
---
I love the pure pine nut oil. I get nervous when I run low! I take it in the morning and at night, both internally and topically. It makes a world of difference!
Daniel Macintyre
---
I have been taking the extra virgin pine nut oil with great success.
Jennifer Campanella-Tallent, Canada
---
I love the product. It helps in treating cough and flu.
Lina Turecki, Keilor, Australia
---
The pine nut oil is great. It has help with a lot of health issues, such as stomach, hemorrhoids, and it also made my skin soft.
Great product!!! I highly recommend!!!
Jolanta, NJ, USA
---
I've been suffering from IBS for over 10 years and after trying Siberian pine nut oil I finally found relief in just as little as two weeks. I use the toothpaste as well which always leave my mouth felling fresh.
Latanya Carrington, Akron, Ohio, USA
---
We bought Pine nut oil for our little daughter to boost up her immune system.
She loves it, so do we. I highly recommend it to my friends and other people. I grew up in Siberia and know how beneficial these products are! I'm glad we found the way to buy it here! Thank you so much!
Oksana Falbo, OR, USA
---
I am using pine nut oil for 7 days. Just 7 days and I want to share my experience. I am drinking every morning just 1 sip. Since then I have no stomach burning. Feeling so energetic and healthy. I am a working woman and I had edema at the end of day cause I sit whole day at work. Well, I have none now!!! Also every night I rub my face and neck. My wrinkles began to erase and I have a bright and smooth face. I couldn't believe about my wrinkles. They are beginning to vanish. These are the results of 7 days usage. Thank you.
Beril Sonmez, Turkey
---
I have been using Pine Nut Oil for 6 months. I also gave away to my loved ones who are suffered MS, Myocard Enfarctus and old age. They said this is a miracle.
Allan,USA
---
Hi, I just tasted the pine oil for my first time. I was having morning sickness of my 5 weeks of pregnancy, and just after taking the oil, the sensation disappeared! I felt more vital and connected, my legs were tingling, and then the sun set.
Thank you so much for giving us the opportunity to have some pine oil during this amazing moment of our lives!
Melina and baby Aitana
---
I have just received the pine nut oil. I must say the effect and the taste is amazing! This is the freshest oil I have tasted yet. Thank you very much for providing such wonderful product!
Anna, USA
---
I have been taking the Pine Nut Oil for six years now, I have type 1 Diabetes which requires Insulin. I have not been to the doctor in four years, managed to size down my injections three times and reversed almost all of Diabetic side effects. I am on my way to curing the incurable disease!
Ron K.,England
---
Pine Nut Oil is the highest quality oil I have ever tried. It is in my daily ration. Makes great salads.
Jason D
---
Have been using the Pine Nut oil for a year now and my acid reflux is much less and cholesterol way down.
Also give my little dog Missy a tablespoon in her food and her cough is much better and she runs about like a puppy. She is 13yrs old.
Gave some to my sister who lives in the United States and she to feels much better and uses the oil also on her skin. She even looks much better. Regards.
Anna Finkbeiner, Bermuda
---
I must say that the Pine Nut Oil has indeed healing powers! My friend told me that it helped him with his back pain just by massaging it in, so I tried as well since I suffered from back pain for many months now. I must say it was like a miracle! After about 3 days of massaging my back with it, the pain was totally gone. I can't thank you enough for this amazing product. Keep up the good work.
Truly Yours, Robert
---
Over 10 years ago, I developed a crippling Environmental Illness disorder that left me almost totally debilitated, as a result of severe mold and chemical poisoning. When I discovered Pine Nut Oil and began trying it, I at first only used a few drops rubbed on my face. Overnight, it began pulling so much old, chemical stuff out of my skin, face and head that I spent 24 hours in a real detox. Afterwards though, I began to feel great and in 3 days of only applying it on my face, noticed that my crow's feet wrinkles around my eyes seemed to be disappearing and I looked years younger. My dried up skin began to feel soft and pliable and even plumped up, like decades ago in my life.
Next, I began taking only a few drops internally to start, to see how I could tolerate the oil and shortly thereafter was noticing a great improvement in my overall energy. It gave me consistency of energy that I have been lacking for years now and the ability to just keep steadily pushing ahead with projects, chores, etc. without collapsing in fatigue.
Overall, my disposition improved and I believe my immune system is getting stronger, slowly. It is the fall and I have not gotten sick, like I usually do by this time, from flu, colds, etc. I want to work up to the full rebuilding protocol with this oil, as well as the resins, as I believe there is great hope and recovery possible with these amazing gifts from the bounty of the earth.
Val, CA, USA
---
Menopausal syndrome, dysbacteriosis. I took 15 g per day of Siberian Pines pine oil over the course of two months. My hot flashes and fatigue were reduced, my sleep improved. According to the results of tests, the composition of my blood improved, my sugar level was reduced.
Jaqueline D., Calgary, Canada
---
Hi , the pine nut oil has sorted out my medical problems and at 57 I now feel and live my life as if I were 30.
Regards, John
---
My feedback for pine oil - it's good for adults, good for breast feeding mom! Our child, 1 month old likes the pine oil as well, which he receives such nutrition through mother's milk. Thank you for providing us with this treasury.
Alexej Bartuli, FL, USA
---
My husband was constantly having bowel movement problems. It created bloating and uncomfortability in his stomach. The constant use of laxatives has drastically flushed out his flora, and the issue just was getting worse. One of my friends has introduced me to the Siberian pine nut oil, as she was also having the same health issue and has sworn by this product to help her with her bowels. I decided to order a bottle for my husband. He has now been using it for 2 weeks, and says he couldn't believe that natural product can provide him with such relief. He was always with medications and had little faith in natural remedies, but it has all changed with your wonderful product. THANK YOU for existing!
Ravi Kastner, VT, USA
---
I gave my 30 year old son a bottle of pine nut oil a few weeks ago and instructed him how to use it to enhance his overall health (mainly by taking a little off a spoon or drizzling it over bread). He came down with a terrible sinus infection which made one side of his face swell terribly. I treated it with antibiotics and the swelling and pain went away but only for about a week (I am a nurse practitioner).
He then called me again to say that his teeth were hurting. He agreed to call me the next day after work to let me know how he was doing. He called the next day to say he had such very bad pain in his face the night before that it hurt when he went to bed until about 1:30 a.m. He had to get up and think what to do about it. He stated he went downstairs and decided to rub some pine nut oil onto his gums and face where the sinus infection and pain were hurting him. What he stated next was amazing. He stated that his pain went away IMMEDIATELY after rubbing the pine nut oil onto his face and gums. He also took some orally off a teaspoon.
I agree with Anastasia and believe the pine nut oil definitely has healing properties!
Carolyn R. W., USA


6. Customer Reviews on Siberian Pine Nut Oil enriched with Resin and Ulcer and Gastritis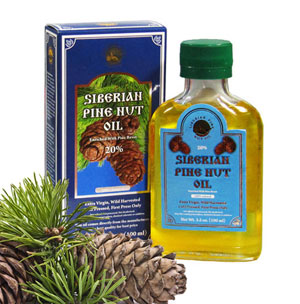 Siberian Pine Nut Oil enriched with Pine Resin
Thank you thank you thank you! I have just had an endoscopy at the hospital when they told me the ulceration and scarring on my esophagus had completely healed. I have been taking the oil for 2 months and have had more energy generally as well as the wonderful result. I do however still have GERD and will continue with the treatment and report back to you. Thanks again.
Linda Wayatt, USA
---
Works great on my stomach, get the 20% for best results.
Erik Thoreson, Fallbrook, CA, USA
---
What a great product [resin 10%]! I had 3 stomach ulcers and GERD. I stopped taking Nexium and took this for 6 weeks n my ulcers were healed.
Regina Iannuzzi Sprague
---
I have been using this for an ulcer which was not responding to other treatment. I have finally gotten blessed relief with pine oil with resin. Shipping was fast too!!
Marleen Bolster, Laurie, MO, USA
---
After my colonoscopy and endoscopy I searched for information on antral gastritis and hiatus hernia and found Siberian Pines, yay! I am feeling better with the 10% resin pine oil, and I love the pine nut flakes, using wooden utensils, and the resin toothpaste; I learned about all of this from your website. I want to try the gum and get a comforter, too.... Thanks!
Ann Rasella, CA, USA
---
I have ordered Pine Nut Oil with 10% resin for my father. He had a stomach ulcer that won't go away with other supplements he was taking to address the issue. After one month of taking Pine Nut oil with resin all his symptoms disappeared.
Great product, I strongly advise it to anybody who suffers from the stomach ulcer disease.
Hasmik, ON, Canada
---
This is the only product [Siberian Pine Nut Oil with Resin] that worked for my gastritis and gastro discomforts. I cannot explain how amazing this oil is. I recommend it to all, you will not be disappointed. This stuff works ! I took it for 2 weeks and my symptoms are so much better. It is worth every penny.
Teresa, Maple, ON, Canada
---
After using your product for about a month I am very pleased to inform you that my ulcers have completely disappeared.
At first I did not believe that it could be possible. I went to my GP and asked him to do a complete checkup. He was astonished. He informed me that there was no trace of an ulcer whatsoever.
I gave the rest of the oil to a friend who, after using the oil for only a week, reported no more pain in her abdomen. Thank you for this miracle cure.
By the way, if you do not already have agents in South Africa, I would really like to become one. Really.
Regards,
Thabo M., Germiston, South Africa


7. Customer Reviews on Siberian Pine Nut Oil enriched with Resin and Liver Problems
I have Hepatitis C virus and when I first began looking through your site last year I thoroughly read the articles printed about uses and findings on Siberian Pine nuts and oils/resins-of particular interest to me was the information that in Russia the pine nut milk is used as a prophylactic treatment for cirrhosis of the liver - an ever present threat when one has the HC virus - 1/3 of patients end up cirrhotic, and of those many develop liver cancer - if not through cirrhosis, 1/3 of HCV patients end up with liver cancer anyway...
As a HCV patient once I had gone through the interferon and anti-viral treatment several years ago which failed to clear up my infection, I was basically told to come back in a few years and see if there was any new treatment. Nothing else - goodbye, don't let the door hit your rear on your way out, type of thing. Quite shocking to me - but the drug companies had made their money off me and as my treatment regiment was complete (at $7,000 per month for 48 weeks) they didn't care what happened to me after that - there was no more money to be made at that point.
Since then I had researched many products looking for alternative methods of treating, arresting or perhaps curing myself of the infection. I remember years ago I had gotten Siberian Pine Nut Oil for an ulcer which it cleared up - so I decided to see what was going on with Siberian Pine Nut oil if I could find it and coincidently I found your web-site.
Move forward a year when I began to order first the pine nut flakes (usually I get 7 boxes at a time) and I also began to buy the oil and the oil with resin - interestingly enough, when my doctor recently checked my blood work for my liver readings they all came back completely normal . When I had a biopsy done on my liver 6 years ago, the biopsy showed I had a 2+ fibrosis out of a score of up to 4. Well, this time I had a liver scan (a new technique which is not invasive like a biopsy and highly accurate) - and can you imagine this - my fibrosis reading is down to a 1, yes, a 1........... I give all the credit to the Siberian Pine Nut flakes, and Siberian Pine Nut Oil with Resin - I am now just received my third order for the oil with resin - I started with 5% and now have 4 bottles of 10% and 4 bottles of 20% oil - I am waiting to take advantage of another special on the higher percentage resin oils in order to do the 60 day protocol I read about in the Articles section.
I am convinced that this miracle tree will cure my HCV and mind set is half the solution - all the improvements to my general health and my positive attitude towards at least holding off the degradation of the HCV infected liver (let alone the improvement in the condition of my liver as evidenced by the test results on the fibrosis level) - again all of this I gratefully lay at the foot of the pine tree and in particular the superior quality Siberian Pines certified products I have bought from your site. I will keep you updated on future developments - and I cannot give you enough thanks for being here in my country so it is possible for me to get the products...
When my own country's medical system could offer me not a shadow of hope, Siberian Pines products came into my life and the healing began. I make no intention by giving witness to my own situation to act as advice to anyone else - each one of us makes the choices that resonate within our own hearts - my own story is not finished yet, I have recently purchased also the essential oils and will be using them in my bath and on my skin - I do believe that the Siberian Pine products will restore my health and that they are without equal in the world for what they offer by way of their special benefits.
As I am on disability it is a challenge to put the money aside to purchase your products, but I have gladly eliminated other things I used to buy to make sure I can make a purchase from Siberian Pines every couple of months and will continue to do so - thank you for bringing these fantastic products to North America - I look forward to any updated articles if you will be printing any in future and I encourage any client who comes to your site to thoroughly read them for the information they impart - of particular interest to is article about the results of using Siberian Pine nuts/oils treating workers who were exposed to radiation at the Chernobyl nuclear site. Remarkable and incredible, and exciting to say the least.
Bless you all and keep you well.
Sincerely,
Jessica Wheeler, Oshawa, ON, Canada


8. Customer Reviews on Siberian Pine Nut Oil enriched with Resin and Energy Level
I just finished my first bottle of Siberian Pine Nut Oil and I feel great. I feel more energized, I even rubbed the pine nut oil with 5% resin on my joins and I could feel the difference in my join mobility and definitely less pain in about 5 days in using the oil.
I also used pine nut oil with 20% resin on my dog's incision after she was spayed. She had an allergic reaction to the suture materials, that is what my vet told me. She suggested to redo the surgery.
Since I had the pine nut oil with 20% resin, I decided to rub the oil directly on her wound for about 3 weeks 2x per day before I would put my dog through another surgery. Sure enough I could see a big difference on a very first day of using the oil on her. The swelling went down and about one week later her incision finally closed up and started to heal.
Thank you for the great products.
Petra, Colorado Springs
---
I am using the Pine Nut cereal and Pine Nut oil with Resin...I drink some every morning and use it on my skin...I feel more energetic and my skin and nails were the first thing I noticed a difference in.
The cereal is wonderful. I use it both soaked in coconut milk to soften the nuts and just throw some in my mouth for a snack and love it both ways.
I am so grateful that this product is available for us here in the States. There are several other products that I am using too.
With much gratitude,
Whitefeather
---
Although the Pine Resin Extract is a bit strong, I feel it is the most beneficial of all the Pine Nut Oils you have in your selection. I use it internally once a day in the morning and it gives me energy through the whole day. All the best!
Igor B., New York, NY
---
Although the Pine Resin Extract is a bit strong, I feel it is the most beneficial of all the Pine Nut Oils you have in your selection. I use it internally once a day in the morning and it gives me energy through the whole day. All the best!
Igor B., New York, NY
---
I purchased the Siberian Pine Nut Oil with Resin and I was amazed at the amount of energy that overcame me within the first three days of use!! I began to perform chores that I had been putting off for weeks due to low energy and depression with ease and enthusiasm :) On the third day of taking the oil, I cleaned my entire apartment and repotted all of my plants and I really surprised myself! I eventually realized that the one thing I had done differently in the days prior was taking a few teaspoons of the oil.
I can't wait to order some more and really put more energy into living the life I want to live. The energy boost from the oil is a great catalyst for making life altering changes.
Thank you so much for this truly effective product! I have every faith in all of the Siberian Pines products!
Kathryn Slaughter, KY, USA
---
Been taking it[Resin Extract 10%] for about a week and a half and I have to say I feel amazing. I have been in a really really good mood and my stomach already is so much better.
Thanks for your help.
Mark Hawes, UK
---
I was hospitalized for 2 months. I am in my 50's, and had an artery clogged, so I had to do operation. After the surgery I felt very weak, and I started using pine nut oil with resin to give me more strength, as I read on the internet that it was even used during the war to help soldiers recover faster. It has been only about 10 days that I have been using it for, and I feel great and full of life!
Mary Hayward, FL, USA


9. Customer Reviews on Siberian Pine Nut Oil enriched with Resin and Skin Problems
Absolutely love this product. After I started taking pine nut oil with 20% Resin - my skin got better and I nearly stopped using creams to nourish and moisturize it. All I do now is once a week instead of every day.
Elena Skorykh
---
The 20% Resin Pine Oil imparts a lovely glow to my face and leaves it feeling moisturized but not greasy, all day. I have never used oil on my face but this is no ordinary oil. Perfect for the arid desert climate in which I reside. It is great to have a simple and pure beauty routine without jars of pricey and empty promises. I highly recommend the 20% Resin Pine Oil topically - it will forever be my anti-aging beauty secret!
Lora, Las Vegas, USA
---
I have been using the Siberian Pine Nut Oil with Resin as a facial moisturizer twice daily and the ravages of the sun are slowly disappearing. I use the oil without resin as a body moisturizer and use very little to get magnificent results...
Betty Lenora
---
I love putting Pine Nut Oil with Resin on my skin. It clears up blemishes on my face quickly and helps my dry hands become softer. The Pine Power cereal is very nutritious and gives me long lasting energy.
Peggy Ann, Coaldale, AB, Canada
---
I have been using the Pine Resin oil on my skin, and I noticed an improvement in my skin texture and in general I have a much more clear skin than before. My skin is very sensitive and therefore I am unable to use many products that are on the market, but the Resin oil gave me absolutely no adverse reaction; and I'm very happy that I have discovered it.
Tania Stewart, NJ, USA
---
I used pine nut oil with resin for almost 1 year. It has dramatically improved my skins texture, and totally healed an ugly scar I had from my car accident. It also helps with those annoying moles that form on body sometimes. After frequent massages every night for 2 weeks, the moles would just fall off.
Thank you for such magical product!
Rebecca Heathen, NY, USA


10. Customer Reviews on Siberian Pine Nut Oil enriched with Resin and Parasites
The Siberian pine nut oil and resin really works in eliminating disease and parasites. I have too much klebsiella pneumonia and am diagnosed with AS, and I have found much improvement after a few months of taking 10g twice a day, along with bee pollen and honey as suggested in book 7, "The Energy of Life".
Colin
---
The Siberian Pine Nut Oil with Pine Resin is amazing! I have been taking it for the past two weeks and the nests of parasites are no match against the power of the oil. It feels like the oil wraps itself around the parasites and creates a barrier, minimizing the damage of the die off.
Susan Freeland, CT, USA


11. Customer Reviews on Siberian Pine Nut Oil enriched with Resin for Other Health Problems
I had bad heartburn for 3 months ... Tried it and never had a problem since.
Lillian Prevost, Canada
---
I just received my first order of your pine nut oil w 5% resin. I have already finished my first bottle (I ordered the special order 3 and get the 4th for free) - and am already through the 2nd. I LOVE THIS OIL!!! The aroma and flavor are outstanding....I keep it on my kitchen counter and have been "taking a shot" of it right out of the bottle!! Thank you for making such a unique and spectacular product available for us all. I look forward to exhibiting even better health and clarity with it. (I have only been using for a week).
Blessings
Debbie, Calgary, AB, Canada
---
I intuited to start taking the Pine nut Oil with tree resin, first 5%, then 10%, then went for 20%, even though I do not have any big health issues. I take it daily, a swig in the morning, evening, maybe in between. My skin is looking more amazing, but a HUGE thing is...I was extremely stressed in the last time and it actually stopped a herpes cold sore on my lip from fully developing twice within a very challenging week! This is a first! And very big...it means it actually gave my body the support it needed. I have never been able to stop a coldsore once it started. I am thrilled to have more proof that this is helping my body in a wonderful way...especially as I am living in NYC and the big, stressful transitions I have been going through.
Thank you for sharing these treasures! They are changing my life for the better: )
J. B., USA
---
I have suffered from Inflammatory Bowel Disease since 1988. My US gastroenterologist almost killed me. I did not begin to heal until I abandoned western allopathic medicine.
After 350ml of Siberian Pine Nut Oil, I decided to try the resin. I could not believe that I would drink something that smelled like my father's oil painting portrait studio... but, after 3-4 days of following the (3) 1/2 teaspoons one hour before meals suggestion - my gut inflammation disappeared.
I am 5'3" 125 lbs and 53 yrs old. I have consumed about 200ml of 20% Resin so far. My stamina is starting to return to levels I had in my 20's and 30's. I am no longer fighting depression at every turn of the societal screw.
My challenges are sorting themselves out, and my dreams for the future expand a little more every day. Best of all, I have real hope for the first time in my life. I was trained in forestry and I abandoned my career because all I could see ahead was bureaucratic fighting. Now, I am older, somewhat wiser with different skills and I am ready to move on my original dream of restoring and saving our forests.
GRAYSON PORTER, FL, USA


12. Customer Reviews on Siberian Pine Nut Oil enriched with Sea Buckthorn Berry (Sea Buckthorn Oil)
I have used Sea Buckthorn Oil topically and I would have to say...one of THE best oils I have tried. No greasy after effect like some oils. Really hydrates the skin to a degree where people ask...what do you use on your skin because you look so good. Now that I know there is the use of this oil internally...this just takes the cake...I mean really....this is going to be awesome!!!!
Adi Yosef, Patagonia, AZ, US
---
I use your sea buckthorn oil on my face—it is simply wonderful! I apply sea buckthorn oil once a week on my entire face and neck, I leave it for 15 to 20 minutes, wash it off with warm water without any soap or gel, and then apply cream to my face. I have felt the moistening effect, my skin becomes smooth, and my freckles have practically disappeared. I have done a mask only twice, but I began to received five times as many compliments from my husband. My skin is like the skin in the glossy magazines.
Thank you very much!
Vera Soboleva, Moscow
---
Several years ago, I had an accident—I scalded my leg with boiling water. Blisters appeared, and my leg turned black. My neighbor advised me to apply sea buckthorn oil to the place of the burn, and within several minutes the pain went away, and by the end of the day, the blisters had subsided...
Marina Yurkova, Moscow
---
I suffered from periodontosis for a long time. I was being treated by a dentist. They used electromassage, ointments, rinses. The treatment proceeded slowly. My teeth were exposed, my gums were inflamed. The dentist advised me to used sea buckthorn oil. I'll describe the method of treatment; perhaps it will be useful for someone. Initially I rinse my mouth, brush my teeth, then rinse my mouth with an extract of oak bark. After this, I make a type of wick from cotton, moisten it with sea buckthorn oil, and place it on my gums. I keep it there as long as possible, until no oil remains on the wick. At the same time, I use it to moisten my throat. The improvement was immediately noticeable: previously my throat would burn, but my throat has stopped hurting, and my gums have returned to normal.
G. V. Nechaeva, Pskov
---
In the spring of 2012, I went to an optician complaining that my vision was deteriorating. The diagnosis was a cataract. The only thing to do was operate. But I had read somewhere about sea buckthorn oil. I began to apply two drops of the oil in both eyes almost every day. It stung and burned, but I put up with it. I did this procedure for eight months, and did not take any other medicine. Soon, according to the second opinion of that same doctor, an operation was no longer required.
M. M. Churakov, Saratov
---
My child's constipation started at one-and-a-half months. Being a young and inexperienced mother, I began to use the medications Plantek, Bebikalm and Espumisan, which helped very poorly. So we suffered for five months.
I decided to try sea buckthorn oil.
The entire treatment consisted of this: when the baby started to strain to go poo, I injected 2 cc's from a syringe without a needle into his anus, and after he went, I injected another 2 cc's to heal the sores, if there were any.
For the first two days no result could be clearly seen, but it is a fact that after 2 days he went on his own—for the first time in 5 months! And every day it got better and better, and after 10 days the result was obvious—the child was managing by himself without my help!!!
And next month when he sometimes still had bouts of constipation—2 cc's of the oil and within 2–3 hours, he was doing his business himself, without me. And after another month, it seems that all this happened to someone else, and long, long ago.
Now I always have sea buckthorn oil on hand, just in case.
Evgeniya Murzina, Moscow
---
I suffered from constipation during my pregnancy. My mother-in-law advised me to take sea buckthorn oil. I took 1 teaspoon in the morning on an empty stomach about 15–30 minutes before eating. I had results on the second day!!!!!!
Svetlana, Moscow


13. Customer Reviews on "Pine Power" - Pine Nut Flakes Cereal
I am not the type who likes pine nuts, but these flakes are delicious! These have a soft taste and are great in smoothies. Gives a wonderful consistency to them! I decided to try them since I am vegetarian and need variety with my proteins. Great option.
Pat Garcia, Montreal, Canada
---
This company makes an EXCELLENT crushed pine nut cereal - I eat it every day. It doesn't take much, 2 tablespoonsful, at most, to make you feel full, and the good feeling you get after you've finished it lasts quite a long time. Highly recommended. Tastes VERY good, too!
Rosemary Breschuk-Chiu, ON, Canada
---
My favorite cereal... pricey... but I'm worth it!
Santa Fe, New Mexico
---
I have been using pine nut flakes for 3 months and I have to say that it helps me build muscle mass. Before I was taking sport protein shakes, but they used to upset my stomach. Pine nut flakes give me feeling of fullness but yet lightness inside. I am happy with this product and will continue using it.
Thanks,
Brian Rozine, Sydney, Australia
---
The pine nut flakes are very nutritional! The first time I put a bowl of them with milk and felt full after eating just half of it. I add few table spoons in my other cereals and salads every day and I love their delicate taste.
June Taylor, USA
---
I am on an elimination diet to regain better health, having a damaged immune system and digestion. Since I cannot have any grains, the Pine Power Pine Nut Flakes have been a godsend for breakfast (you can eat only so many greens in a day!). I make them with hot water, letting steep while I drink my tea, and love the nutty taste in the morning. Thanks! Looking forward to trying the recipes.
Debor Austin, TX, USA
---
Excellent product [Pine Power], best of the best on the market. I have 12 boxes and want to eat them every day. Very nourishing, delicious and healthy product, balances body and mind.
Thank you, Elena


14. Customer Reviews on Cedar Pillow
I finally have received my pillow! My girlfriend is already noticing after a couple hours of laying on it that her irregular heart beat has shifted for the good. Of course I am bragging to friends and family...
Christi, USA
---
Good morning,
I got my pillow two months ago and absolutely love it! I really want to buy the comforter!
I am very happy with the Siberian Pines products, thank you.
Paulina Morales
---
I am using the cedar pillow for improving the circulation of my legs. When I wake up my legs feel lighter, they used to be heavy and painful even after resting all night. I love the feeling of nature close to my body. I'm also using the essential oils and pine nut flakes and I'm very happy with the Siberian Pines products.
Elena Corral, Kealakekua, Hawaii
---
I love my pillow : )
Sparrow Rhiannon Heatley,CA, USA
---
I just got my cedar pillow. It's definitely not some ordinary pillow, but a miracle. I used many orthopedic products before, which did nothing for my neck pain. Cedar pillow really does the job...I love that it's not too hard and not to soft but just right amount of stuffing, and the aroma is wonderful. My neck pain is long gone and I also stopped having nightmares as I sleep so deep, I think it's the smell that just puts me in such relaxing feeling of peace. Very satisfied and look forward to cedar comforter. Thank you!
Rebecca Morgan, CA, USA
---
The Cedar Pillow has a wonderful scent, I just can't get enough of it. The scent is so relaxing and really does put me to sleep with no effort. I enjoy it very much..it is like my bestest friend ..I even take it with me when I travel.
Dita Leini, CA, USA
---
We have had our Cedar Pillow for 2 years now and it undoubtedly provides the sweetest sleep! Our kids love this pillow.
Kimberley Dower, TX, USA
---